In a fast-paced digital world where cutting-edge technology is driving innovation, the real estate industry is embracing all the possibilities.
Data Army recently drove an engaging discussion with innovators at the Proptech Forum 2023 on Modern Data Strategies for Scaling Proptechs. The session was facilitated by Michael Ogilvie, Director of Data Army and Founder of The Proptech Cloud, and joined by Dr Ben Coorey, Founder and CEO of Archistar and Clive Astbury, Director, Sales Engineering, ANZ, Snowflake.
There was plenty to unpack in a short session, so we've provided an overview of the discussion points here.
Why is a Data Strategy Critical to a Startup's Scale Up Plans?
Vast volumes of data is generated every second all around the world, and this is expected to continue growing at an exponential rate.
The amount of data or information generated, gathered, copied, and consumed is expected to reach 180 zettabytes by 2025 according to Statista.
These huge volumes of data requires scalable data platforms and infrastructures for accommodating and managing it.
Explosion of Data
This explosion of data will generate a significant amount of innovation and growth opportunities for proptechs and the broader real estate industry.
And importantly – there will be deep insights that can be gleaned from data.
Some of the key opportunities include:
1. The Power of Data in the Age of AI & ML
Recent years have seen a surge in innovation, with artificial intelligence (AI) and machine learning (ML) leading the charge.
These technologies are transforming industries and reshaping the way we interact and do business – and at the core driving it all – is data.
Just consider ChatGPT and Large Language Models (LLMs) – they owe their capabilities to the large amounts of data that fuel them.
2. Increasing Integrations and Data Shares Across Organisations
Businesses are increasingly collaborating with different vendors, partners, and data suppliers to access a wealth of data resources to make decisions, fuel product development, and more.
The integrations and data sharing practices across various organisations fosters the exchange of valuable information and generates more and more data.
If a proptech is going to scale using data, then they will need a data strategy.
It becomes really critical to control data, understand how it works and how to use it.
Very quickly, if data practices aren't in order, business is going to slow and be unable to keep up with opportunities.
Archistar's Data Journey
"At Archistar, it wasn't ever our intention to consume so much data. We started off as a generative design company to generate buildings… however, a lot of what you can do is driven by data; what are the restrictions on the land, what's the maximum building height, what's the zoning, so we naturally went, 'Ok, we need to start capturing this data'.
A lot of it was geospatial data and a lot of other types of data that wasn't digitised, so we had to figure out how to fuse all that together. I think we've gone through four, five or six versions of our data architecture.
You can get data in pretty quickly, there's tools and techniques to get data in. Once you start to get bigger data sets, then you've got to keep it up to date, you really have to start thinking about the framework you're using and how it all stays together. When you start to partner with people, making sure that data is accessible and easy to consume is the next level." – Dr Ben Coorey, Founder and CEO, Archistar.
Challenges in the Ever-Changing Data Landscape
Data is a dynamic field, and as it evolves, it presents us with a set of challenges that affect all businesses across various industries, not just proptechs.
Here are some of the pressing industry issues:
Human Resourcing Challenges:
The scarcity of skilled data professionals poses a significant challenge as the demand for data expertise continues to outstrip the available talent pool.
Data Acquisition Complexity:
Obtaining the third-party data to supplement first-party data can be a formidable task, often accompanied by uncertainty regarding data availability and quality.
Data Infrastructure Alignment:
Establishing data infrastructure that seamlessly aligns with your business strategy and long-term vision is crucial for success. A misaligned infrastructure can lead to inefficiencies.
Data Sovereignty, Privacy, and Compliance:
Adapting to ever-changing regulations and ensuring data security and privacy is paramount. Staying compliant is an ongoing challenge.
With decades of experience working with data, we know that the data journey is a continuous one, and we consistently collaborate with our clients to navigate and address them.
Don't reinvent the wheel


Rather than spend time and money building something bespoke, leverage data and tooling that already exists. You know your business – it's unlikely you're building custom datasets of properties or addresses. However, that might be another business' specialty, so let them do the hard work while you focus on the development that supports the unique functionality your business offers.

Invest in people


Avoid having a single point of knowledge (SPOKs); instead focus on building knowledge across the business.

Don't neglect tech-debt


Set key data development objectives that are completed alongside

incoming ad-hoc requests, and

Build for the future
Align your data infrastructure with longer term business strategies and for where you want to be in the future, not for where you are today.

Most database tooling has flexible options for both small and large organisations. 
Collaborating to Overcome Challenges
We firmly believe that in this data-driven age, the insights gained from data will be the driving force behind innovation and growth.
The Proptech Cloud (powered by Data Army in partnership with Snowflake) is just one of the ways we're trying to tackle some of these issues: by sharing knowledge and streamlining the acquisition of data sets and apps to aid proptechs.
By bringing together experts with valuable data assets and knowledge to share, we hope to empower businesses to overcome some of these challenges.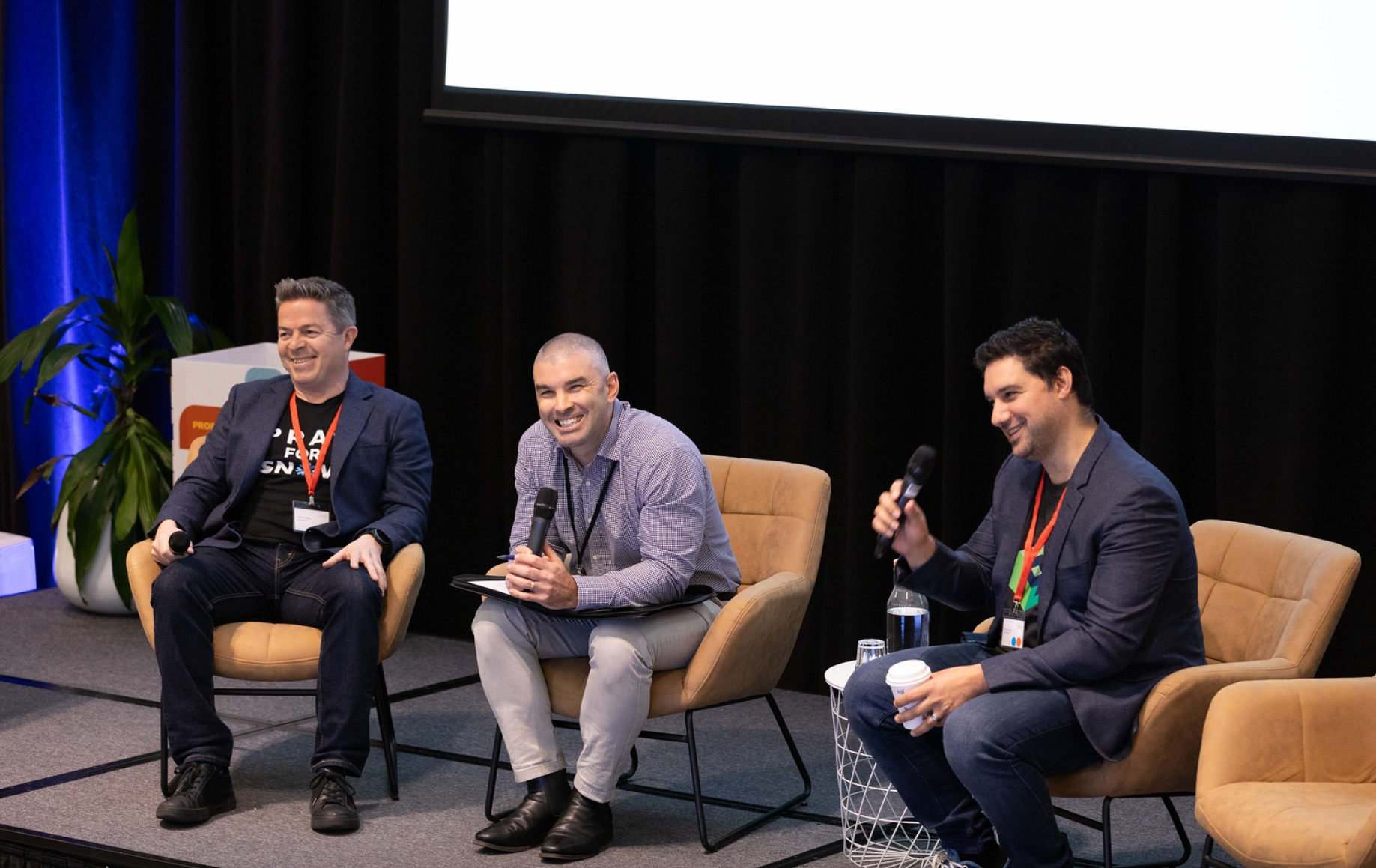 Left to right: Clive Astbury, Director, Sales Engineering, ANZ, Snowflake; Michael Ogilvie, Founder of The Proptech Cloud and Director of Data Army, and Dr Ben Coorey, Founder and CEO of Archistar, at the Proptech Forum roundtable.